Crown Steel Buildings® Do It All!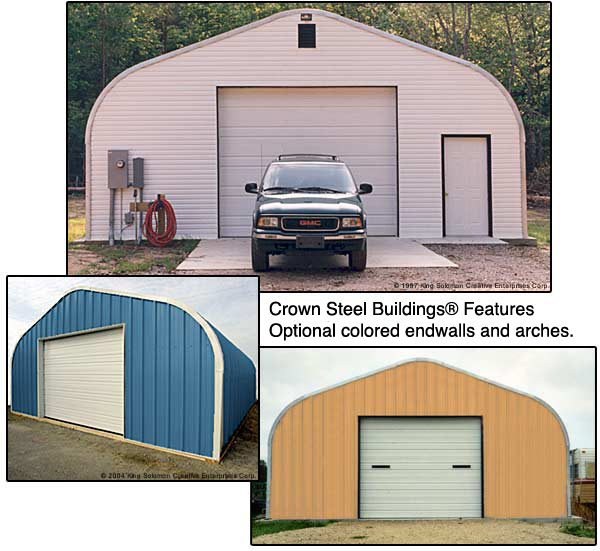 Steel Buildings Assembly - No Skilled Labor Required!
Whether it's a home Workshop, Commercial Shop, a One-Car Steel Garage or Two-Car Steel Garage or a Steel Shelter for your boat we're here to protect. It could be your RV or a steel frame home. That place to store your farm equipment, steel grain & crop storage. Build your own business such as an auto body or repair shop. Whatever the application is Crown International Steel Building Systems® trussless, pre-engineered Steel buildings, are perfect protectors.
Each Steel Building is made of Galvalume Steel®, a special steel alloy developed by the US steel industry to provide lifelong durability, with a 35-year perforation-through guarantee. The quality engineering of our metal buildings features a unique corrugation that acts like thousands of reinforcing steel beams resulting in great strength that channels away snow and rain.
All metal buildings ship with an easy to follow assembly manual and require no special tools or equipment to erect.
We at Crown International Steel Buildings® are serious about quality and customer service and we're just a phone call away.
Our goal has always been 100% customer satisfaction. All steel buildings are designed and tested to the highest standards of quality and direct factory assistance is only a phone call away. Some customers want their new metal building yesterday and others are planning months ahead. In all cases we are able to help you with purchasing and delivery times that work for you. The Do-It-Yourself building, process means that you are in control of when and how quick your building goes up. Say goodbye to scheduling a contractor, whether it's a Steel garage kit or Workshop Buildings – 3 good buddies and a weekend is all you need!
Crown Steel Buildings, Metal Buildings and Prefabricated Buildings are designed for a broad range of residential and commercial applications including Garages, Workshops, Carports, Agricultural Storage, Metal Barns, Quonsets, Airplane Hangars, RV Storage, Roofing Systems, Storage Buildings, Military Buildings, Government Buildings , Commercial Warehousing, Metal Sheds, Hay Storage, Affordable Steel Housing, Salt Storage, Batting Domes, Animal Loafing Sheds, Athletic Facilities, Bus Stops, Doggie Dorms, Correctional Facilities, Industrial Storage, Pole Barns, Pole Sheds, Machine Sheds, Shop Buildings and all types of steel buildings!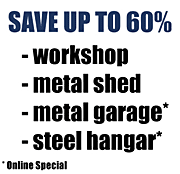 Traditional house-shaped pitched roof and high sidewall clearance
Rounded roof and clear-span interior that allows for maximum useable space
Our Factory is CSA A660-04 Certified!!!
Aztec Steel Buildings has recently obtained a CSA-660 Quality Certification for Steel Building Systems.
Winter is fast approaching - protect your valuable possessions now with a Crown Steel Building®
What our customers say ...
"Dear Crown Steel Buildings:
"I have wanted a garage for a number of years and have finally decided that I could afford one. I had checked prices for a wooden 2-car garage and had found them high. I had heard that a steel structure might be the way to go."
"There were a number of web sites on the Internet for steel structures, and I called about 5 of them. Crown Steel was the first to call back, had the best price, and is certainly the easiest to deal with by far. I had a contract the day after I had made my decision."
"The building arrived on time and amazingly, with all the parts! We had a crew of 3 to 4 people working on erecting the structure and it went up in a little over 2 weekends start to finish! The directions were very comprehensive and thorough."
"This is a great structure that will out last me and my children too! It requires almost no maintenance and best of all, it doesn't need to be painted! It is rodent proof and windproof. One of my best purchases and one I highly recommend."
Joan C Barns, Wiscasset, Maine
Crown International Steel Buildings® Call Toll-Free: 1-800-457-2206