Factory clearance!

Save up to 60% on standard building sizes
These standard size buildings are the most cost effective buildings we produce. Typically, one of these sizes should accommodate your building needs. Because of changing specials, and exceptional deals on cancelled orders please call or click here to request a quote. We promise you the lowest possible price.
For details and pricing information: 1-800-457-2206
With Crown Steel Buildings® you get all this and more!
World's most durable pre-engineered building designed to withstand the harshest weather conditions on earth including heavy snow, hurricanes, tornadoes and even earthquakes
35 year perforation guarantee backed by U.S. steel mills
40 year warranty on the paint
Maximum usable space for minimum financial investment
Completely clear span with no beams or posts to get in the way
Completely fire resistant
No rotting wood
Designed by the best engineering professionals in the U.S.
Remarkably affordable
Voted superior to similar style buildings
Made from the highest quality, heaviest-gauge commercial U.S. steel available
Simple bolt-together construction
Easily expanded to any length
Completely maintenance free
Fire resistant
Computer aided design and manufacturing
Every building custom made to customer specifications
Friendly and highly skilled customer service personnel
Manufactured exclusively in the United States
Highly versatile, perfect for virtually any commercial, industrial, or consumer application
PRICE A STEEL BUILDING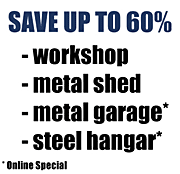 Traditional house-shaped pitched roof and high sidewall clearance
Rounded roof and clear-span interior that allows for maximum useable space
Crown International Steel Buildings® Call Toll-Free: 1-800-457-2206