Crown Steel's Panel Overlap
Competition's Panel Overlap

Last 9" of panel is smooth - flat, no crimps
Fits snugly together
No struggle with assembly
Saves 30-40% on erection time
No caulking required for waterproofing

Entire panel is crimped
Does not fit snugly together
Difficult to assemble
Requires 30-40% more erection time
More alignment needed with drift pins
Caulking is required for waterproofing - very time consuming, as each overlap must have four rows of caulking to prevent leaks

Crown Steel's Panel Crimping
Competition's Panel Crimping

Crimps are closer together and smaller in depth
No buckling problems
25% increase in strength

Crimps are farther apart and larger in depth
Buckling problems
Panels are weaker

Crown Steel's Hardware
Competition's Hardware

Grade 2 bolts - 500 hr salt spray test, JS Clear Coat (five times more rust resistant)
Optional - Grade 8.2 bolts - 1500 hr salt spray test, JS Clear Coat
More durable
High strength
Corrosion resistant

Some use zinc fasteners - no JS Clear Coat, not spray tested
Less durable
Low strength
Not corrosion resistant

Crown Steel's Arch Specification
Competition's Arch Specification

From a minimum of 23 gauge to 22, 20, 18, 16 and 14 gauge, depending on wind loads and snow loads
Raw materials ordered to minimum specifications and tight tolerances
Less tolerance variation
AZ55 Galvalume® - 55% aluminum, 43.5% zinc, 1.5% silicone, direct warranty from steel mill
High resistance against corrosion
25 year rust-through perforation limited warranty directly from the steel mill
Studies show panel life is 40+ years
Florida testing approval for high wind velocity, up to 150 mph. Florida approval number FL-5897

Material minimum less than 23 gauge
Raw materials ordered to nominal specifications and loose tolerances
Greater tolerance variation
AZ50 Galvalume® - 50% aluminum, 48.5% zinc, 1.5% silicone
Low resistance against corrosion
Only a 20 year warranty
Some use galvanized zinc coating – no warranty
No Florida testing approval

Crown Steel's Arch Material
Competition's Arch Material

Rust through warranty
Minimum yield = 55 ksi
Manufactured in accordance with ASTM standards
Manufactured in accordance with ASCE building codes
9" overlap of panels
Two rows of bolts
16 gauge beam equivalent at overlap with two rows of bolts, 0.030 overlap over a 0.030 overlap = 0.060

Minimum yield = 50 ksi
Some do not meet ASTM standards
Some do not meet ASCE building codes
7" overlap of panels
Weaker overlap with one row of bolts

Crown Steel's Endwall Panel
Competition's Endwall Panel

AZ55 - 55% aluminum, 43.5% zinc, 1.5% silicone
3 1/2" corrugation depth
25 year rust-through perforation limited warranty directly from the steel mill
Direct warranty from steel mill
Florida testing approval for high wind velocity, up to 150mph. Florida approval number FL-5898
High resistance against corrosion
From a minimum of 22 gauge to 20, 18, 16, and 14 gauge, depending on wind loads and snow loads

AZ50 - 50% aluminum, 48.5% zinc, 1.5% silicone
Only a 20 year warranty
No Florida testing
Low resistance against corrosion

Crown Steel's Color Options
Competition's Panel Color Options

Endwalls
Polyester silicon or paint with endwalls
26 gauge, 80,000 ksi - galvanized C-channel framing
Florida testing approval for high wind velocity, up to 150 mph. Florida approval number FL-3895
Paint warranty of 25 years against

- Chipping
- Blistering
- Cracking
- Pealing

Designed to withstand the strictest of wind codes
Arches
Arch panels are offered in color
Designed to withstand the strictest of wind codes
Florida testing approval for high wind velocity, up to 150mph. Florida approval number FL-5897
Paint warranty of 25 years against

- Chipping
- Blistering
- Cracking
- Pealing

Come with colored bolts

Endwalls
No color endwalls
No Florida testing approval
Not designed to withstand the strictest of wind codes
Arches
Arch panels are not offered in color
Arch panels are not offered in color
Not designed to withstand the strictest of wind codes
No Florida testing approval

Crown Steel's Panel Manufacturing
Competition Panel Manufacturing

AMERICAN MADE by AMERICAN WORKERS
Producing and making the best product anywhere in the world
Manufacturing plant is located in the United States – McKees Rocks, PA
Comply with all U.S. state and federal laws
Leadership has over 42 years of experience
Largest manufacturer of arch buildings in the world

Some manufacturing plants are located outside the U.S. - Canada
Warranty is subject to the guidelines of a foreign country
Because they manufacture outside of the USA they are not subject to state and federal laws
Leadership has less years of experience
Warranty problems are headaches - some claims must be made in foreign countries
For details and pricing information Click here
With Crown Steel Buildings you get all this and more!
World's most durable pre-engineered building designed to withstand the harshest weather conditions on earth including heavy snow, hurricanes, tornadoes and even earthquakes
35 year perforation guarantee backed by U.S. steel mills
40 year warranty on the paint
Maximum usable space for minimum financial investment
Completely clear span with no beams or posts to get in the way
Completely fire resistant
No rotting wood
Designed by the best engineering professionals in the U.S.
Remarkably affordable
Voted superior to similar style buildings
Made from the highest quality, heaviest-gauge commercial U.S. steel available
Simple bolt-together construction
Easily expanded to any length
Completely maintenance free
Fire resistant
Computer aided design and manufacturing
Every building custom made to customer specifications
Friendly and highly skilled customer service personnel
Manufactured exclusively in the United States
Highly versatile, perfect for virtually any commercial, industrial, or consumer application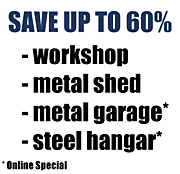 Crown Steel Buildings, offer high sidewall clearance, and an unbeatable unobstructed clear span of 100% usable space. And, they are remarkably affordable.

Now available in color!
About Us
Specials
Price A Building
Models
Assembly
Features
FAQs
Contact
Home | About Us | Contact Us | Price a Building | Request Brochure | Site Map | Links
©2009 Crown International Steel Building Systems