Crown Steel Buildings® - Frequently Asked Questions

---
How does quoting work?
With just two simple steps you can use our Request A Quote form to specify what you need, and receive customized price quotes, saving yourself time and money!
STEP 1: Provide your contact information
Let us know how to reach you with your customized quote.

STEP 2: Answer a few questions about the building on which you would like a price quote.
The more detail you provide, the easier it will be for us to provide a complete and accurate price quote.
What does it cost me to request a quote?
Our quoting service is absolutely free to you.
Does your quoting service require that I use cookies?
No, our quoting service does not require that you use cookies. We use cookies in the aggregate only, to help us understand where our customers come from, and what they are looking for. No personal information is stored.
How is my personal information used?
In order for us to provide you with the price quote you request, you will be asked details about your building requirements as well as contact information including your name, address, phone number and e-mail address.
Your information is forwarded to our building estimators so they may process your request. We do not share your contact information with 3rd party partners. All contact information is kept strictly confidential.
Can Crown Steel Buildings® deliver a building anywhere in the USA?
Yes. Call us toll free at 1-800-457-2206 for area specific information.
What are the buildings made of?
Crown Steel Buildings® made by American Steel Span, are 100% U.S. commercial grade steel.
How secure is the framing?
Steel framed buildings are fastened together with bolts and screws. The connections remain secure because there is so little movement in the frame. Nailed together connections in traditional construction become loose due to shrinkage and warping of the wooden frame. Steel does not warp, shrink, or change with time so the connections remain secure.
What will it cost to ship the building to me?
Freight cost will vary with the weight of the building and the destination location. To save our customers money on shipping expenses we use share-loading to ship as many buildings as possible in one full semi truck load.
Are there color options available for my building?
Yes. You can choose from 5 end wall colors, two trim colors, and two colors for the roof or Arch, in addition to traditional silver Galvalume®.
Are the buildings insulated?
We offer many types of insulation with a range of R-values for you to choose from. Our technicians can help you determine what insulation type will best suit your steel building needs.
Can I put doors and windows on my steel building?
Yes. Our steel buildings can be customized to incorporate doors, windows, ceiling lights, and more. Your sales representative will gladly help you design and customize the right building for you.
How long does it take to get my building delivered to me?
Because we design every building individually for each customer, delivery time varies from project to project. Your sales representative can give you a better idea of your delivery time after understanding your requirements.
Will my building meet local building codes and wind and snow load requirements?
Every Crown Steel Building® is engineered to comply with regional building codes, wind load and snow load requirements.
Who will erect my building?
Since Crown Steel Buildings® provides easy to follow erection drawings and an erection manual with every building shipped, many of our customers erect their buildings themselves. If you would rather have someone else erect your building for you, there are many erectors nationwide who have successfully erected our buildings. We would be happy to put you in touch with them.
With Crown Steel Buildings® you get all this and more!
World's most durable pre-engineered building designed to withstand the harshest weather conditions on earth including heavy snow, hurricanes, tornadoes and even earthquakes
35 year perforation guarantee backed by U.S. steel mills
40 year warranty on the paint
Maximum usable space for minimum financial investment
Completely clear span with no beams or posts to get in the way
Completely fire resistant
No rotting wood
Designed by the best engineering professionals in the U.S.
Remarkably affordable
Voted superior to similar style buildings
Made from the highest quality, heaviest-gauge commercial U.S. steel available
Simple bolt-together construction
Easily expanded to any length
Completely maintenance free
Fire resistant
Computer aided design and manufacturing
Every building custom made to customer specifications
Friendly and highly skilled customer service personnel
Manufactured exclusively in the United States
Highly versatile, perfect for virtually any commercial, industrial, or consumer application
PRICE A STEEL BUILDING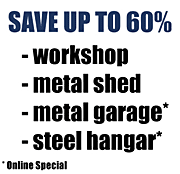 Traditional house-shaped pitched roof and high sidewall clearance
Rounded roof and clear-span interior that allows for maximum useable space
Crown International Steel Buildings® Call Toll-Free: 1-800-457-2206